Atlanta Botanical Garden

You can imagine my surprise at seeing an exhibition of Northwest glass artist Dale Chihuly's work while visiting the Atlanta Botanical Garden recently. I've been to the Chihuly Garden and Glass in Seattle and to the Museum of Glass in Tacoma… but I sure didn't expect to see his beautiful work in Atlanta! (although I'm not too sure why not, since it has universal appeal)
I was recently in Atlanta for the Association of Garden Communicators' annual conference. It's always a delightful opportunity to network with other folks who are in the same line of work, visit amazing public and private gardens, and attend workshops on topics that are relevant to me.
On the first full day, those of us who are early risers (and some who ordinarily aren't!) had the opportunity to visit the Atlanta Botanical Garden for a photo shoot before the doors opened to the public (is that cool or what?). You'll notice that I went overboard on photos for this post. Remember that you can click on any of them to view a much larger image.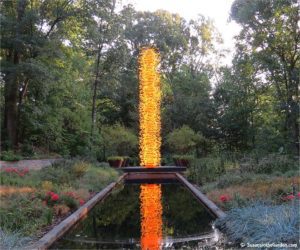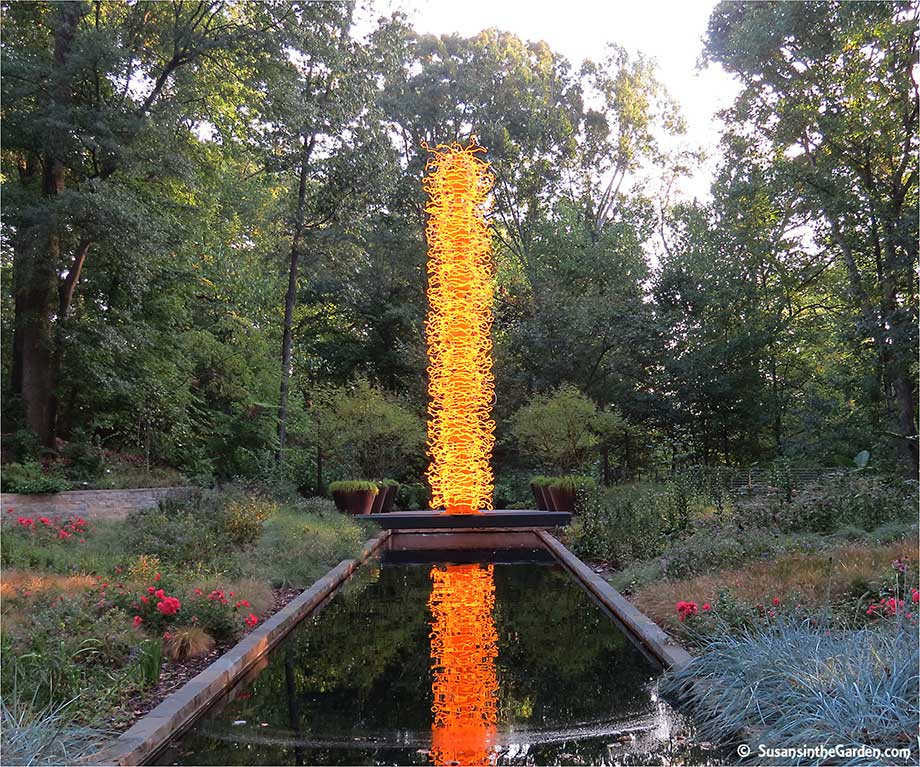 As my husband, Bill, and I headed into the garden, we realized there would be a bit of the Northwest experience right there with us. Chihuly's glass works were installed in several areas of the garden and always breathtaking. I loved how the early morning light played off of the glass as the sun slowly rose. This exhibit will run through Oct. 30 in case you're curious.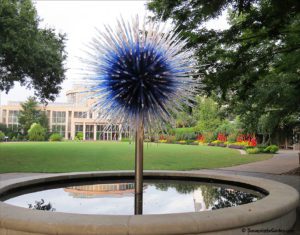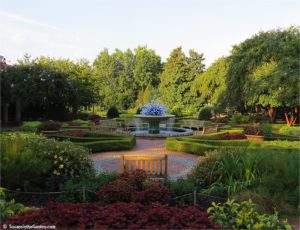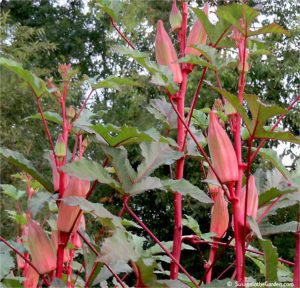 Since I'm particularly interested in growing veggies and fruits, we quickly headed toward the edible garden to see what awaited us. I have to admit the thing that made the biggest impression on me was the huge stands of okra plants. It made the few okra plants I grew two years ago look downright pathetic!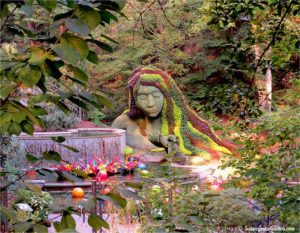 Another area that is still on my mind is the beautiful Cascade Garden where this huge natural sculpture greeted us. Isn't it beautiful?! As you can imagine, we all clamored to take that one photo that would capture the scene, so we could relive the moment when we all returned home.
I'm still thinking about the beautiful Canopy Walk, where you wander along bridges and walkways through the treetops. Absolutely gorgeous and serene.
Our time at the garden went by a little too quickly but I thoroughly enjoyed it nonetheless.
One last thing I should probably mention is that the Atlanta Botanical Garden has two lovely gift shops filled with beautiful items you'll want to take home. The smaller shop currently has many Chihuly pieces available for purchase.
If you're ever in the Atlanta area, this beautiful garden is a must-see!