Book review: The Organic Gardener's Handbook

by Susan Mulvihill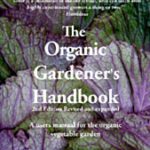 Several years ago, I made the commitment to grow all of our vegetable and fruit crops organically. It has been a continual learning process but so worth it. I've been keeping my eyes peeled for a well-written book on organic gardening to guide gardeners and believe I've found one worthy of a space on your bookshelf!
It is Frank Tozer's The Organic Gardener's Handbook: A user's manual for the organic vegetable garden (Green Man Publishing, 288 pp., $27.95). This book, which is the revised and expanded second edition, came out this year.
Tozer has an easygoing writing style. He doesn't gloss over the amount of work it takes to create and maintain a garden but it's clear he wants you to be successful! I really enjoyed this quote:
"When you start out vegetable gardening, you will have your share of successes and failures. The successes are the most rewarding (obviously) and show you that you did something right. The failures are less satisfying, but if you pay attention, they will teach you just as well (if only how not to do something)."
Isn't that the truth?
This book, which is perfect for novice and experienced gardeners alike, explains the reasoning behind the various components to caring for a garden. I don't know about you, but I find that if I understand why I'm doing something, it makes much more sense than just being told to do something a certain way.
Tozer fills his book with the type of information every gardener needs, from the basics of starting a garden, understanding how your local climate and day length affect what you can grow, choosing a good site, planning ahead on the layout of your garden, and the factors that affect plant growth. It was interesting reading about correctly timing one's plantings to prevent instances of premature bolting to seed.
One aspect of the book that I was particularly impressed with is the time Tozer took to stress the importance of improving the soil and all of the ways we can accomplish that. The soil chapter provides details on soil texture, structure, the need for oxygen within the soil and the role microorganisms play.
But he doesn't leave it at that. The next two chapters cover performing a soil appraisal, and the 17 essential elements and what they do for plants, which includes a useful plant nutrient deficiency key. Then he delves into soil management which is based on regularly adding organic matter and  includes a chapter on the pros and cons of using manures, leaves, straw, hay, plant material, kitchen scraps, biochar and so on.
But Tozer's not finished with us yet! He also provides us with an explanation on how to make compost and how it works. What's more, he covers soil-improving crops (cover crops, green manures and living mulches), materials to use for mulch, and then the pros and cons of the no-dig gardening method.
Altogether, the author devotes about 90 pages on soil-related information, which I think is awesome. I've long maintained that we gardeners neglect our soil. I think that's because it's sort of invisible. We buy seeds or bedding plants and just plop them into the soil, without stopping to think of the soil nutrients that have been depleted from the previous season's garden. Yet soil is the very foundation of our gardens and its health and fertility dictates the type of garden we end up with. All of Tozer's soil information is useful and necessary, and will make us much better gardeners.
Once this important foundation has been laid, the author discusses what it takes for seeds to germinate, seed sources, how to store them and provides a detailed chart on seed viability. From this chapter on, he dives into planting crops and watering, feeding, weeding and harvesting them.
No garden book — especially an organically-based one — is complete with material on how to deal with different types of garden pests, whether they are wildlife or insects. It's always refreshing to read a book that covers cultural practices we can use to avoid or reduce these problems, physical means to keep the pests away from our crops, biological controls, and — if need be — organic sprays available to us. The chapter on managing plant diseases focuses on the types of diseases, how to recognize them and ways to control them.
I apologize if I've completely worn you out with this book review! I felt it was important to give you to get a feel for the wealth of information available in The Organic Gardener's Handbook. It is just the type of book vegetable gardeners need in order to be both successful and a steward of the environment.