June 12 column: Spokane in Bloom garden tour preview

I hereby proclaim that the 2016 garden tour season is underway! The first tour is Spokane in Bloom, which is put on by the Inland Empire Gardeners and featured 5 beautiful gardens in Spokane Valley. it will be held on Sat., June 18.
You can get a sneak preview of the featured gardens by reading my column in today's edition of The Spokesman-Review: Annual garden tour shows off the colors.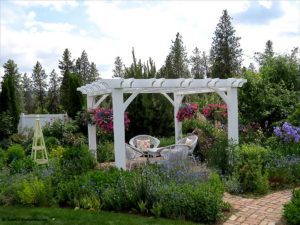 I had the pleasure of strolling through Mike Di Biase and Chantel Fan's garden in Greenacres and it is stunning. You will not want for color! Their garden is filled with annuals, perennials, bulbs, shrubs and trees of all types. You will see more photos from my visit below.
I'm really looking forward to going on the Spokane in Bloom tour next Saturday and hope you'll find the time for it as well. You'll be full of inspiration to take home to your garden!