New product: Plant Picket garden markers

While checking out the marketplace at the Northwest Flower & Garden Show last week, I came across these eye-catching row markers. Aren't they cute as can be?
These are Plant Picket decorative garden markers from PlantPicket.com and they were designed by owner Jed Darland. He's created markers for vegetables, herbs, flowers, fruits and berries. In addition, there are markers sporting bugs, charms, holiday designs, fairies, gnomes and more. Each design is encased in a UV-resistant, polished acrylic to preserve the design.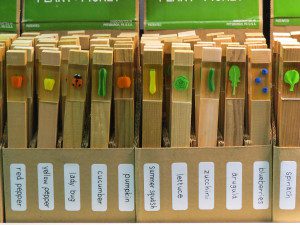 Some markers are even "illuminated" through the use of an acrylic insert at the top of the marker (see photo below), which allows sunlight to come through it and show off the design even more. Because they're made from bamboo, they are sustainably produced.
Jed has made a whole bunch of specialized markers, such as acorn squash, butternut squash, butterhead lettuce, red Swiss chard, savoy cabbage, San Marzano tomatoes… just to name a few. What an easy way to remember what you planted!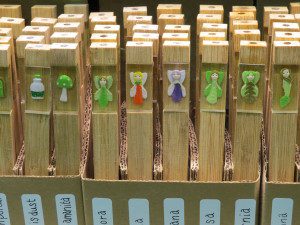 He showed me several of his markers that have been out in his garden for the past few years and they've held up really well. Each marker is 8 inches long and very sturdy.
I've included three photos of them with this post but if you'd like to ogle all of the designs, just go to PlantPicket.com/store. Warning: you will want them all! They'd make an awesome gift for your gardening friends, too.
Happy shopping!