Book review: "High-Yield Vegetable Gardening"

I've just finished reading the ultimate vegetable gardening book and my head is reeling. In High-Yield Vegetable Gardening  (Storey Publishing, 2015, 320 pp., $18.95), authors Colin McCrate and Brad Halm have assembled just about everything you'd ever need to know in order to grow a productive, successful garden.
The authors are large- and small-scale farmers who share their valuable experience. They advise gardeners to take a professional approach to their gardens in order to get the best possible yields… no matter what size garden they have.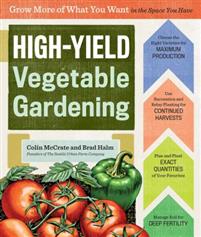 This book is geared for all experience levels. It's for anyone who wants their garden to be productive (and isn't that everyone?). The information is divided into three parts.
The title of Part One is "Planning & Planting What You Need." The authors emphasize how important it is to avoid getting discouraged by the challenges we face, to learn from our mistakes, and to keep on top of the weeds.
Throughout the book, they profile three families with productive gardens that range in size from 400 to 80,000 square feet. As they cover the important topics, they apply that knowledge to these specific settings.
McCrate and Halm suggest creating a site plan and garden vision in order to use the space you have efficiently. Be realistic about the amount of time you have and create a planting plan so you grow the amounts of produce you'll need. To do this, it's vital to keep good records.
They advise us to think about how long each crop will exist in the garden (referring to annual crops vs. biennial or perennial ones) so we'll know how much space is available for planting. Another suggestion is to think about how you will process or store crops once they're harvested.
There are many guides in the book that are valuable resources: charts for succession planting; plant life spans; a worksheet showing vegetable serving sizes so you can decide how much you want to eat and thus how much to grow; and actual plant yields so you can really fine-tune your plan.
As I read through the book, I realized that by following the authors' leads, you don't have to figure everything out by trial and error, which is something most of us have done.
Part Two carries a title of "Growing for Maximum Yield" and covers soil preparation and testing; detailed information on selecting the right irrigation system for your needs; and establishing a "home nursery" for seed-starting or other propagation methods. There's even a table with a title of "Tolerance of Root Disturbances" that defines which plants tolerate transplanting vs. those that should be sown directly into the garden.
Part Three, "Getting the Most From Any Garden Space," focuses on meeting your plants' needs. It covers fertilizer types, how to prune appropriately, how to hand-pollinate, and dealing with the tough stuff: weeds, pests and diseases.
I was pleased to see the authors suggest the use of beneficial insects, row covers and netting, hand-picking of insects, and the use of organic sprays as a last resort — they don't even mention chemicals. Right on.
Other useful information includes the importance of keeping your soil's fertility high through the use of cover crops and compost, and how to extend the season through the use of greenhouses, cold frames, and high or low tunnels. The authors detail when to harvest crops, how critical it is to handle food safely, and how to store crops (including a chart on ideal temperatures, containers to use for storage, the ideal amount of humidity and best practices).
More than anything, it's clear that planning is the key to success. High-Yield Vegetable Gardening is chock-full of great ideas and good practices to follow. McCrate and Halm have provided a detailed, essential guide for all gardeners to learn from.